To access the Member Manager:
In the Control Panel, click My Members
Then select, Member Manager
Overview
Users who go through the online subscription process are automatically added to the member manager.
You can also manually add members either individually or mass upload (email the SubHub support team) 
Manually manage your member's access, or expire access to your site. 
Search for your members in your database and download the data to use offline. 
Create and manage your member groups (levels)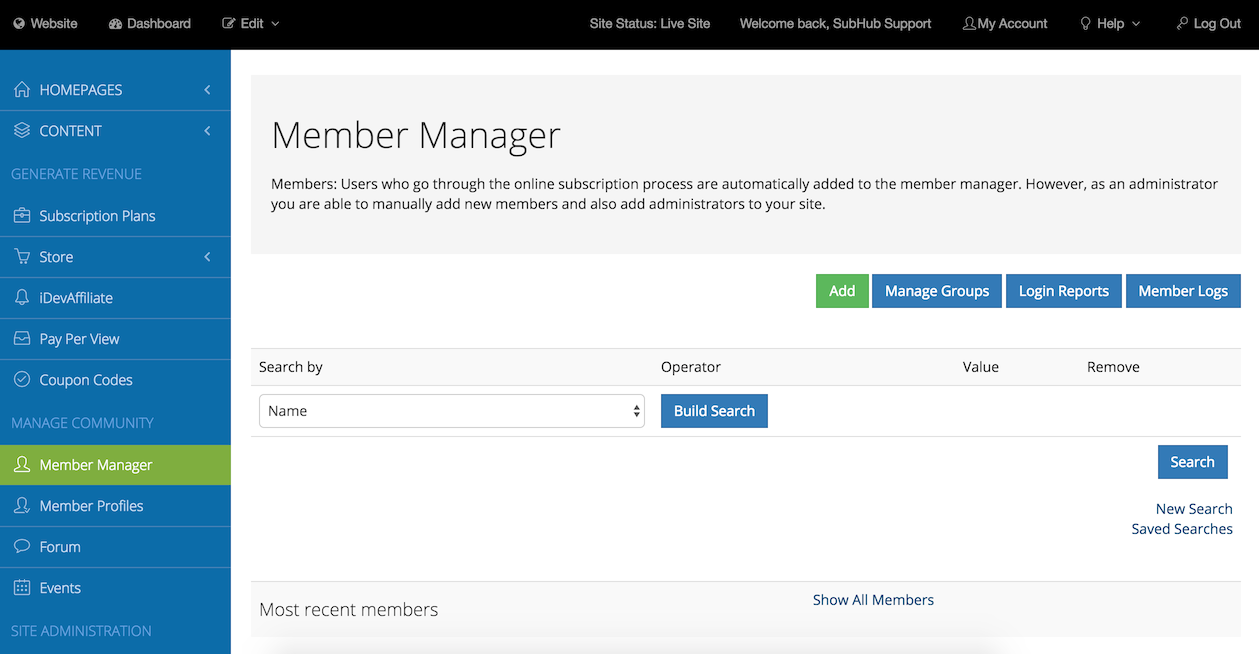 Manually create a new member
Click 'Add Member'
Enter their 'Personal' information where applicable
You can choose their role, either Member, Administrator, Content Management, Store (access only) and Member Manager (access only)
In the next tab, Subscription, you can assign the user to a subscription plan.
After selecting the subscription plan, you will need to manually select their expiry date using the pop out calendar.
Please ensure to click on the calendar to confirm the date.
Customized Homepage - If you are using this feature, you can choose which homepage the user should see. 
Finally hit 'Save' to complete this process.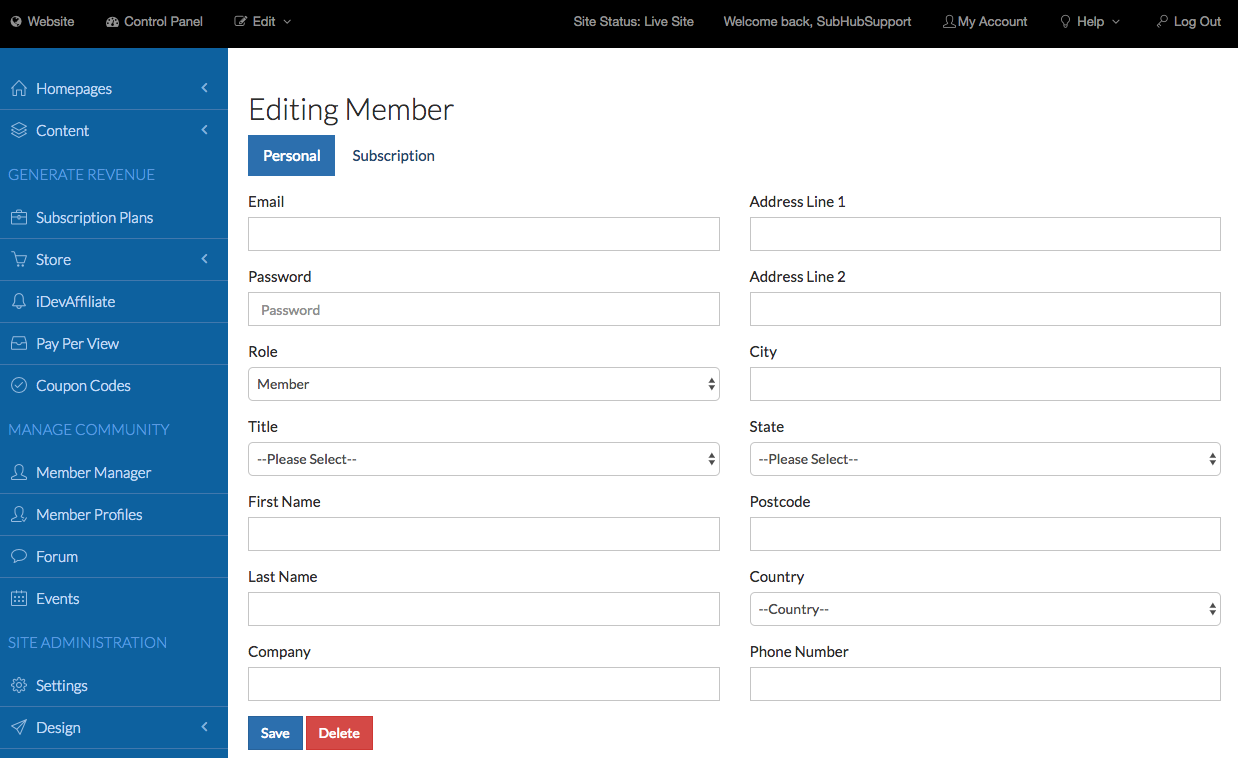 Subscription Tab
Here you will see the details and status of a member's subscription.
ACTIVE is the initial status when a member signs up. If the plan is recurring, it will change to ONGOING with the first automatic renewal.
Manage Groups
To section off your content to different users, you will need to create specific member groups (levels)
Click Manage Groups
And simply enter the name of each group/level on separate lines
Hit 'Save' to finish up
After saving the member group, your list will appear whenever you create a subscription plan or member only article.
Login Reports
Quick access link to the main site report section.
Here you will be able to select specific date ranges and download the login report
Search your member database

Let's say that you would like to run a report that shows all members from the USA. Firstly click onto the filter dropdown list and select 'Country', then select 'Add Filter' finally click the 'Search' button.

You can add and remove filters as needed to narrow down the data returned with the report by using the 'Remove' and 'Add Filter buttons'.
Message your members

So now you have found your US members let's say that you would like to send them a message. All you have to do is press the 'Message Members' button at the top of the screen. You will now be presented with a message form, here you can type in a sender name, sender email address, subject and message. Finally just click the 'Send' button.

NB. Please ensure you type into these fields rather that paste from another application.

Why not try this out by sending yourself an email through this new feature.