There are three types of product that can be sold through the online store, these are:
Physical goods or services
Digital downloads
Articles (Pay Per View)
The store cannot be used for free products.
Your SubHub site will allow you to display and take payment for items, however it does not manage dispatch of physical goods.

Configure your store
The first time you access your store, you will need to set up your store front. 

Go to the Control Panel>Store.
You can also access this page by adding the following link to the end of your SubHub site URL.
 /store/configure
Here you can manage your store settings, please note that you will need to save your changes on this page before you can configure your product categories and shipping rates.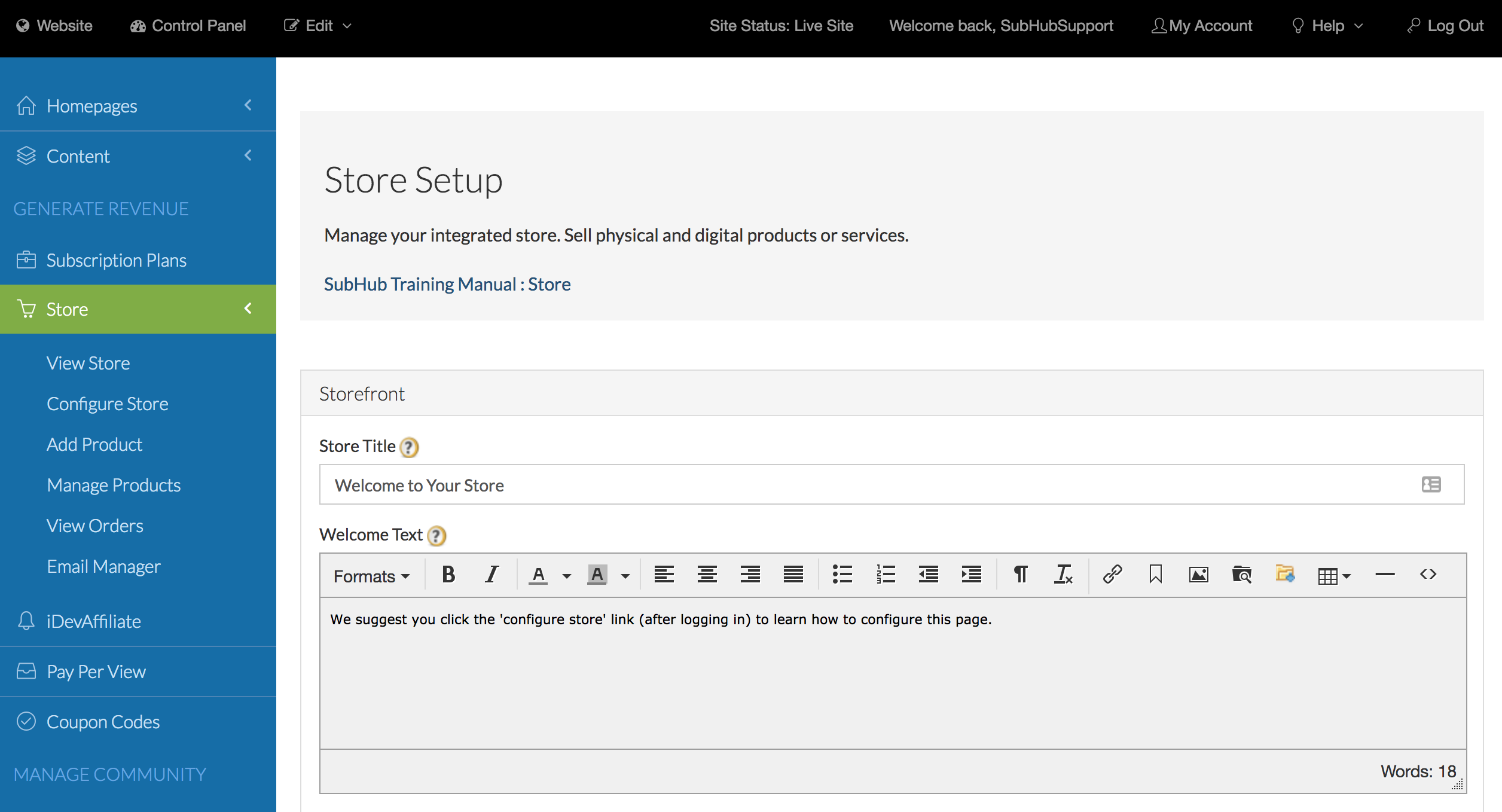 Storefront Setup
Edit the store title and welcome text to greet visitors to your store.
Save these settings before proceeding with the next steps.

Product Categories
NOTE: It is very important that you save any changes to the store configuration BEFORE you set up your product categories.
Once you have saved your store configuration you can click on the 'Configure Store' link to return and set up your categories.
1. Click on the 'Configure Product Categories' button.

As you can see there are currently no categories created: Click on the 'add new category' button
2. Enter the category name, for this example we will enter 'Books', if you wish you can give the category a description.
3. Set who you want the category to be visible by, either everyone or members only. Click 'save categories' and your category will be saved.




You will be returned to the configure store page, which you will need to click the 'Save Store Configuration' button at bottom of the page for your categories to be created.

Category display
If you create any categories they will be displayed to your visitors in a drop down list: You can also choose to display the categories more prominently if you wish.
To add this second display of categories you need to return to the Store Configuration page and check the 'Show subcategories above products' option.

Shipping
Within the shipping section you can decide how the shipping charge is applied and create your shipping rates.

NOTE: It is very important that you save any changes to the store configuration BEFORE you 'Configure Shipping Rates'.
There are two possible ways in which you can apply the shipping charge:
1) Per item
For example if the customer purchased five books they would be charged the shipping rate five times. The shipping charge will be applied to every item that is placed in the customers shopping cart.
2) Fixed charge per basket Per item
There will only be one shipping charge regardless of how many items are added to the shopping cart. For example if the customer purchased five books they would only get charge a fixed amount.

Configure Shipping Rates
If you are selling physical products through your site it is important that you set your required shipping rates that your customers can choose from.
To do this click on the 'configure shipping rates' button within the store configuration: As you can see there are currently no shipping rates created.
To add your first shipping rate click on 'Add New Shipping Rate' and you will see several text fields appear.
Give your shipping rate a name – an example of this could be 'next day delivery' or worldwide shipping'.
You need to decide whether to charge your customers shipping based on a per item basis or a one charge amount per transaction.

Item Cost
When charging shipping per item you can offer a percentage discount if multiple items are purchased.

Basket Cost
Enter the shipping cost you want your customers to pay for their whole purchase. They will all get charged the same shipping regardless of how many items they buy. When charging shipping on an item cost basis you can offer a multiple item discount.
With a 50% 'Multiple Item Discount' a customer buying two items would receive a 50% discount on their shipping charge. Click 'save shipping rates' and your changes will have been saved.
NOTE: You must then save the store configuration page for your changes to be saved.
Taxation
Your tax rate will change based on the country you are located, there are several options to configure.

Tax Rate
If you need to charge tax on your products you set the percentage in the tax rate field. This rate will vary from state to state. When to calculate tax Decide when to display the tax to your customers, the options available are:
Before Checkout – everywhere the price is displayed it will include the tax.
After Checkout – the tax will only be added to the price in the checkout.
Name of Tax
This will be the label that is shown in the checkout to itemize the tax. State (if in USA) Set the state that your business is based. If you are not based in the US then leave the menu as 'Non-US/Other' Country Set the country your business is based in.
Currency
NOTE: You should have enabled the currencies you wish to accept in 'Settings' 'Payment Processor' Select your default currency that your product prices will be displayed in. If you want customers to select their own currency, check the 'Enable multiple currencies' box.

Confirmation Email
Once a customer has successfully placed an order on your site, a confirmation email will automatically be sent. You will receive a copy of this email to alert you to the fact that an order has been placed.
In order for this to work correctly you must edit the example email addresses.
Enter your own email address into the 'Email address to send orders to' field.
Enter your own email address into the 'Email address to send orders from' field.
To customize the email further you should edit the: 'Thank-you Email Subject' and 'Thank-you Email Text'


Advanced Settings
There are several settings that you may want to use, these can be applied globally and also changed on a per product basis.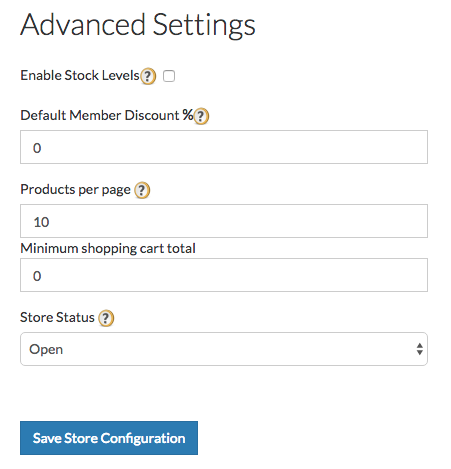 Enable Stock Levels
Check this box to enable stock levels.
This means that when you create a product you can state the number of products that are available. Every time a product is purchased the availability will update accordingly and once all the products have been sold the product will appear as unavailable.

Default Member Discount
Apply a percentage discount, which will be applied to all products once a member logs in.
You can also change this on a per product basis. Products per page Decide how many products you want to display on a page. If more products are added a new page will be created, which visitors can link to.

Store Status
The store is open by default, if you close the store visitors will not be able to browse your products.
To re-open your store you need to click on your store link and type '/configure' at the end of your URL.
Click save store configuration and you will be returned to the store homepage where your changes should be visible.

View your store
The link to your store will be:
/store
Here you can see how the categories are displayed and the list of all products underneath.


Edit a product
To edit a product you need to return to the store and find the product you wish to edit. Click on the product title to view the full product description and you will see an edit product link in the top right hand corner. Click the 'Edit Product' link and you will get taken through to edit the product. You can make any changes necessary, click 'update product' and your changes will be saved.

Delete a product
To delete a product you need to return to the store and find the product you wish to delete. Click on the product title to view the full product description and you will see a delete product link in the top right hand corner. Click on the link to delete your product.

View orders made
Once your store is live on your site it will be important for you to manage the orders that are placed. To do this you can view all of your orders in the purchase history. To view the purchase history of can click on the 'View Orders' link on the storefront, when you are logged in as an administrator.
Alternatively you can click on 'site reports' in the control panel, click on the last link 'Purchase History (Store)'. Here you will be able to see a list of every purchase made: Each order placed will be added to this list, with the newer orders at the top of the list.
You will also see the cost of the product and the date the order was made. The Status of the order will automatically be set to 'New' when the order is first placed. You can change the status of the orders to help manage them.
To view the full order, click on the 'Details' link next to the relevant order. You will be able to view the following:
Billing Details
Shipping Details
Order Details


Members can view the articles they have purchased via the My Orders link within their My Account page.
Email Manager
The Email Manager provides you with a list of all digital store purchases received. From the manager, you have the ability to resend the order email with the digital link, if needed.