Customized Homepages will replace the public or members homepage with different body text and title.
There are three methods for replacing the homepage content, these are:
1) Replace members homepage content for individual logged in members
2) Replace members homepage content for logged in member groups
3) Replace public homepage content for visitors typing in a specific sub-domain
Click on 'Customized Homepages' to create a custom homepage.


Then 'Add a Customized Homepage'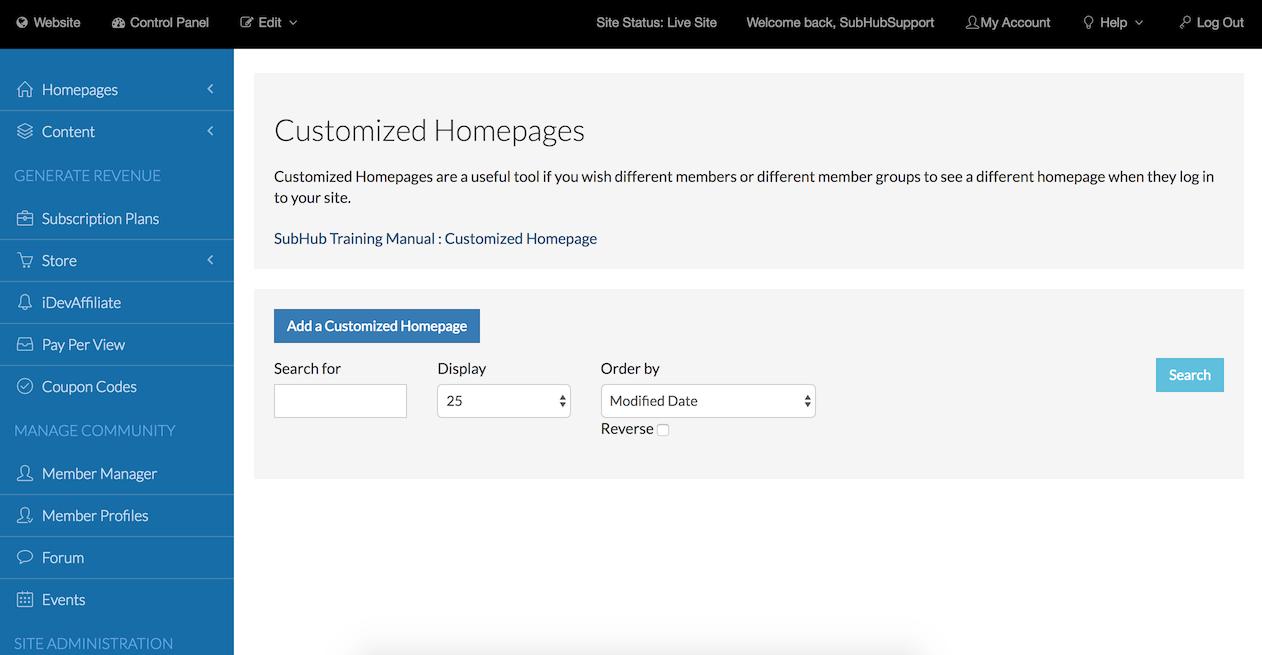 Once you have added the title and body content, you need to choose when this content will be displayed, the two options are:
1) Insert above homepage – this means the new content will simply be placed above the existing homepage content.
2) Replace homepage content (RECOMMENDED) – this means the existing homepage content will be replaced with the new content.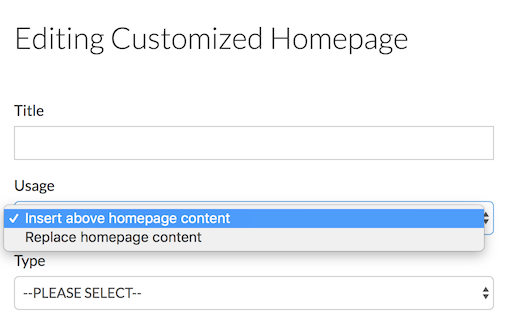 Who to Display Custom Content to (Type)
The next step is to decide who the custom content will be displayed to, the three options are:
1) Display to individual member
2) Display to a certain member group
3) Display to visitors to a certain sub-domain (eg, http://custom.sitename.com)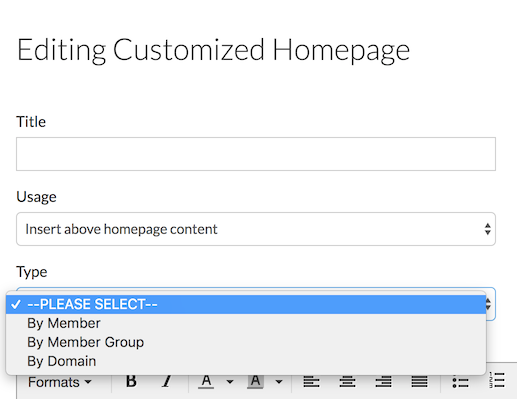 Display to Individual Member
Select 'By Member' from the 'Type' drop down menu.
A line of text will appear as highlighted below.
Click 'Save' and the page will be created.
You then need to go to the 'Member Manager' to assign a member to the custom homepage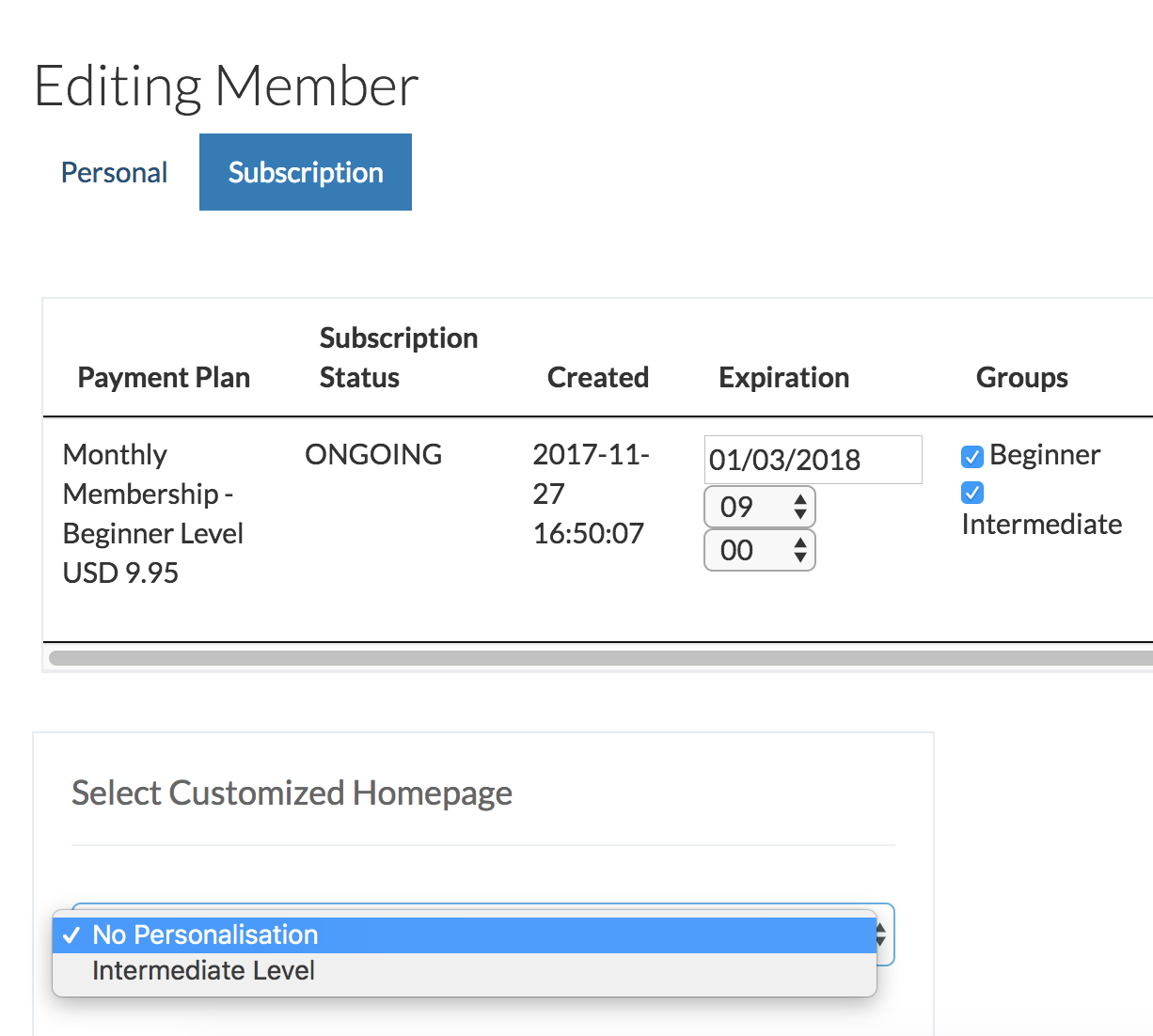 Display to Member Group
NOTE: You must have already created your member groups otherwise you will receive the following message: No groups created yet.
Once you have created your member groups, you need to return to the 'Customized Homepages' section and edit your customized homepage.
Select 'By Member Group' from the 'Type' drop down menu Your member groups will now appear in a drop down list
Select the member group you want this custom homepage to be displayed to Click 'Save' and you can 'Preview', 'Publish now' or 'Undo'.
Once you have published the page will appear in the list of custom homepages
When anyone who has subscribed to the relevant member group logs in they will see this custom homepage.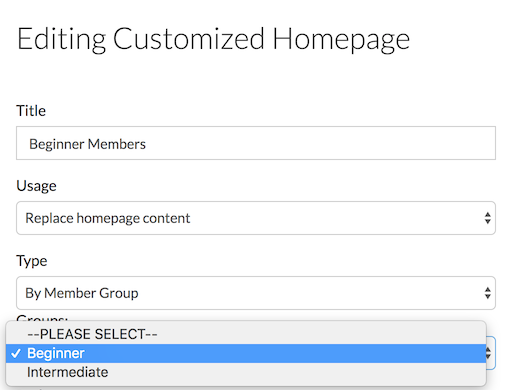 Display by Domain
For advanced users that need to set up sites using separate domains.