In this section, you are able to manage some of the pages that are accessed through the footer of your site.

Terms and Conditions / Privacy Policy
The terms and conditions and privacy policy are legally required for UK online businesses.
As we know how time consuming it can be getting set up we are happy for you to use our own terms and conditions and privacy policy. We would recommend that you have these looked over by a third party and you will need to go through both sections and add your own contact details.

Contact Page
Modify this message to include the contact information for your business. 
You can also set the email address the contact page gets sent to dependent on the line of inquiry selected.
Override the example email addresses here and replace them with your own information.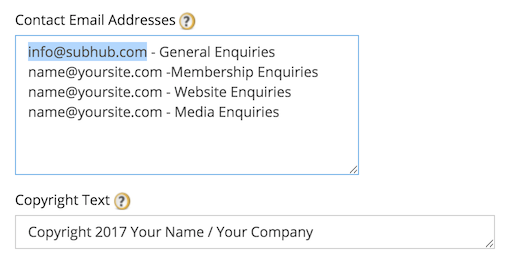 Copyright Text 
The copyright text will appear in the footer of your site. Click 'save settings' and your changes will be saved.