To enable the subscription part of your website, you must create at least one subscription plan to allow your members to sign up.

Creating a subscription plan
To create a subscription plan, go to the control panel.
Click on 'Subscription Plans'
Click on the 'Create new subscription plan' button.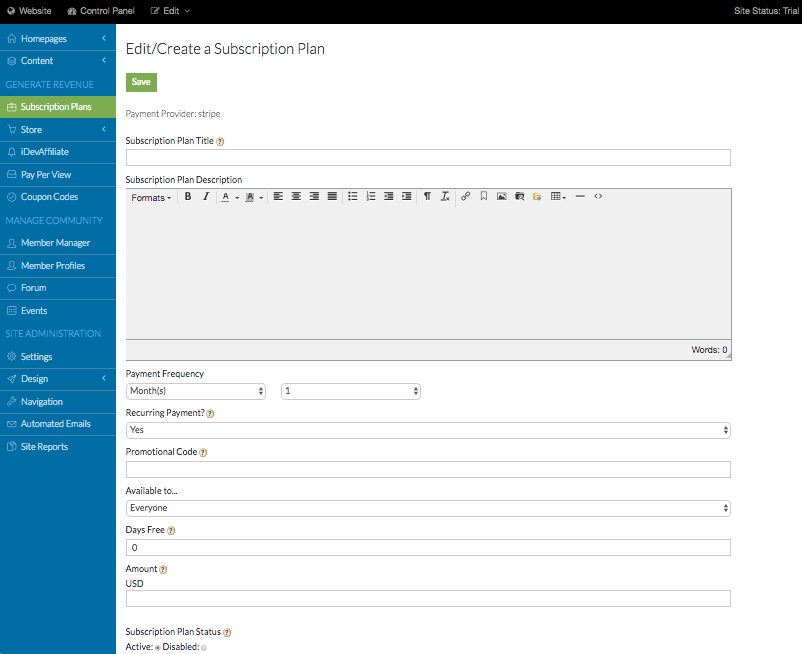 Subscription Plan Title
Give your payment plan a title. The title you enter here will be displayed to your visitors when they go through the sign up process.
Payment Frequency
The payment frequency fields sets the duration of the subscription.
You can choose from weekly, monthly, quarterly and annually. You can also choose to multiply these if you wish. Stripe also offers a daily recurring payment.
Recurring Payment?
If your subscription plan is set to Recurring, the member payment will be taken at regular intervals as set in the payment frequency field above.
If Recurring Payment is set to No, at the end of the payment frequency, the subscriber will be sent the expiry warning emails created in the 'Automated Emails' section.
Lifetime Access
To create a subscription plan that grants lifetime access for a one time payment, set Recurring Payment to No. 
A field will appear that you can check yes to: "One-time payment plan with life-time access".
Recurring Times?
This option, available only with PayPal, sets the number of times a subscription payment will recur. For example, if your subscription plan is for lifetime access after three monthly payments, this is how it would be set:
Payment Frequency: 1 Month
Recurring Payment: Yes
Recurring Times: 3
Promotional Code
When you assign a promotional code to a subscription plan, the plan will only be visible to the subscribers who enter the code at the beginning of the sign up process.
Promotional codes are generally used in conjunction with a discounted offer. They can also be useful for tracking where your subscribers are being referred from.
Available to . . .
Typically you would set the availability of a subscription plan to be available to 'Everyone'.
This allows all new subscribers to sign up using this subscription plan.
Other options are new members and existing members.
If you set the availability to 'New Members' this means existing members will not be able to renew on this plan.
And if you set the plan to existing members only renewing members will be able to access the payment plan.
Days free
If you wish to offer a certain number of days free, enter the number of days here.
Please note that subscribers will still be asked to enter their card details in the subscription process but the funds will not be taken until the end of the number of free days stated here.
Free days, can only be offered on Recurring plans.
The maximum number of free days for Paypal is 28.
For Stripe, there is no limit on the number of free days.
Amount
Enter in this field, the amount you wish to charge your subscribers. 
The currencies are set in the 'Payment Processor' section within your site settings.
Member group plans
If you have set up different member groups (as shown in the member management sections), you will see the different member groups listed here at the bottom of all subscription plans. To enable specific users to have access to member group / level content, please select the member group shown in your list. 
This means if a subscriber joins a subscription plan assigned to a certain member group, they will only have access to the articles assigned to that same member group. 
Free Plans vs Paid Plans
To create a free plan, enter 0.00 into the 'Amount' field.
If you will also be offering paid plans, the free plan should be set to monthly recurring. The reason for this is as follows:
If you have a free annual plan and also offer a paid monthly plan then the following scenario would take place.
If a user joins the free annual plan and then immediately upgrades to a paid monthly plan then the subscriber will have an expiry date thirteen months in the future, this is because existing credit will be applied to the new plan, in this case this would be twelve months.
Saving your subscription plan.
Once you are happy with all your changes, click save. You will be notified that your changes have been saved.