How to create the form
You can create a custom Contact Us form by embedding a Google form into an Article page.
Here's where you can create a Google form: https://www.google.co.uk/forms/about/
This link provides a Google Support guide (they reference surveys, but these can also be contact forms)
To embed the form within an article, open the Google form and click SEND. A number of Send Via options will be presented. Select option < >.
You'll then get an HTML embed code. Copy this code.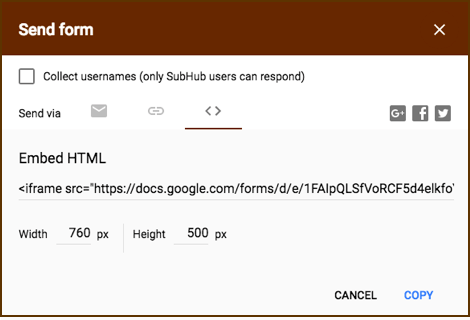 In Your SubHub Control Panel, choose Add a New Article. In the editor, select the source code icon < > in your editor and paste the code into the box. Save and Publish Now.

How to add the form link to your navigation
To add the navigation link to your custom Contact form, go to Navigation and select where you want to link to appear. Add the link using the Static Menu option.
Copy the article link URL - remember for an internal link copy only the part after the .com.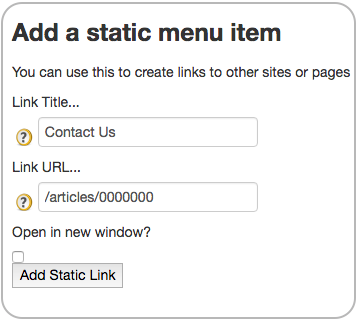 Click Save and then Publish to make the new contact form live.