Using our integration with Zapier, you can integrate with any email marketing software supported by Zapier.
The integration allows a contact to be added to an email list when a new user subscribes to your SubHub website.
How to create a Zapier account
Sign up to a Zapier account
Zapier is free for up to 5 Zaps. This integration is 1 Zap.
There is a 15 minute update time before a new member is added to a list.
How to enable the Zapier integration
In your SubHub control panel.
Click Settings in the blue side bar menu.
Select the Integrations tab.
Tick Enable Zapier Integration.
Save Settings.
1. How to set up the Trigger
In your Zapier dashboard.
In the sidebar menu, hover over over the black square with the + sign.
Click the Make A Zap button.
Name your Zap.
Search for SubHub under App Event.
Select SubHub.
For the Trigger Event, select New Member Created.
Click Continue.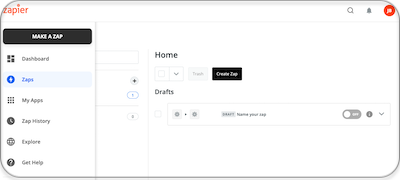 Choose account
In the pop-up window, enter the admin username and password for your Subhub website.
Then choose that account in the window.
Click Continue.
Click Test Trigger
2. How to set up the Action
Under App Event, search for for email marketing software.
For the Action Event, select Create Contact.
Click Continue.
Choose your email marketing account
Log into email marketing software and Authorize.
Select your account from the drop down.
Click Continue.
Set up action
Insert the Data for the Set Up Action.
Click in the Email field and insert email data.
Click in the First Name field and insert first name.
Click in the Last Name field and insert last name.
Select the SendFox List that the contact will be added to.
Click Continue.
Click Test & Continue.
Complete the set up
Test the set up
Sign up to a subscription on your SubHub website.
Wait 15 minutes.
Log into your email marketing software and check the list to confirm that your test email has been added to it.